Netflix has confirmed that Narcos will return for a third series 
Only the most hardened of binge watchers will have got through series two, which dropped last Friday.
Those 10 episodes followed the final months of drug lord Pablo Escobar's life, with many thinking it would also mark the end of the show.
But the makers clearly feel there is more to tell. If you've got through to the end of series two, you'll have had a clue the story would continue.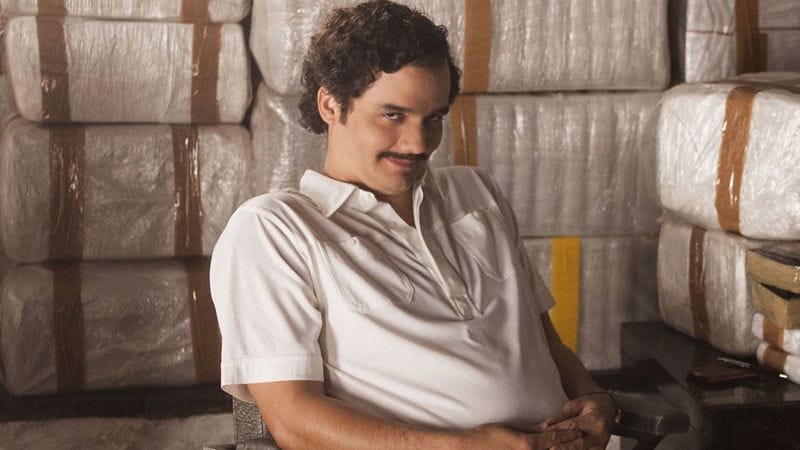 We remember what it was like when Netflix first started coming around with Narcos, its Pablo Escobar TV show. It seemed fun, then, and maybe a little dangerous. (Heck, maybe it was fun because it was a little dangerous.) In any case, it livened up the streaming service's schedule, and made it more fun to talk about at parties. And sure, we rolled our eyes when Netflix renewed the show for season 2. We made snide little jokes to hide our nervousness about all this new Pablo paraphernalia. But it's not like Netflix had a problem, or anything.
Now, Deadline is reporting that the service has ordered Surviving Pablo Escobarfor itself, meaning it might be time to confront the ugly truth: Netflix is addicted to shows about Pablo Escobar, and it has been for a while.
 The new series—which Netflix is licensing from Colombia's Caracol TV—is based on a book by John Jairo Velasquez, the guy who killed hundreds of people as the leader of the drug lord's team of personal assassins. (He's also, in a truly bizarre modern media move, a modest YouTube star, regaling his 120,000 subscribers with a mixture of penitence and stories of his bloody kills.) The series is still in development in Colombia, meaning it probably won't be out by the time Narcos' second season comes out in September. But then, that's a classic case of Pablo-based paranoia for you: Netflix clearly wants its next fix of Colombian murder shenanigans in place before its current supply runs out.